Details About My Hiking Trips
General details and instructions concerning all the destinations.
Physical fitness
Weather and seasons
Clothing
Gear
Food
Insurances
Physical Fitness
Because my hiking tours are private to you or your small group, we can hike according to your fitness. I can also change our route in the middle of the hike to accommodate your wishes, if you want to walk more or less. We can stop and just hang around in nature if you so wish.
The only requirement for my hikes is that you can walk up and down stairs. There are rooty and rocky uphills and downhills in nature, so you need to be able to walk those. We don't need to hike fast, but you will need some mobility.
If you have some disability, but you'd still like to experience being in nature and possibly sleeping in a tent, contact me and tell me about your situation so I can plan a destination and route for your needs!
Weather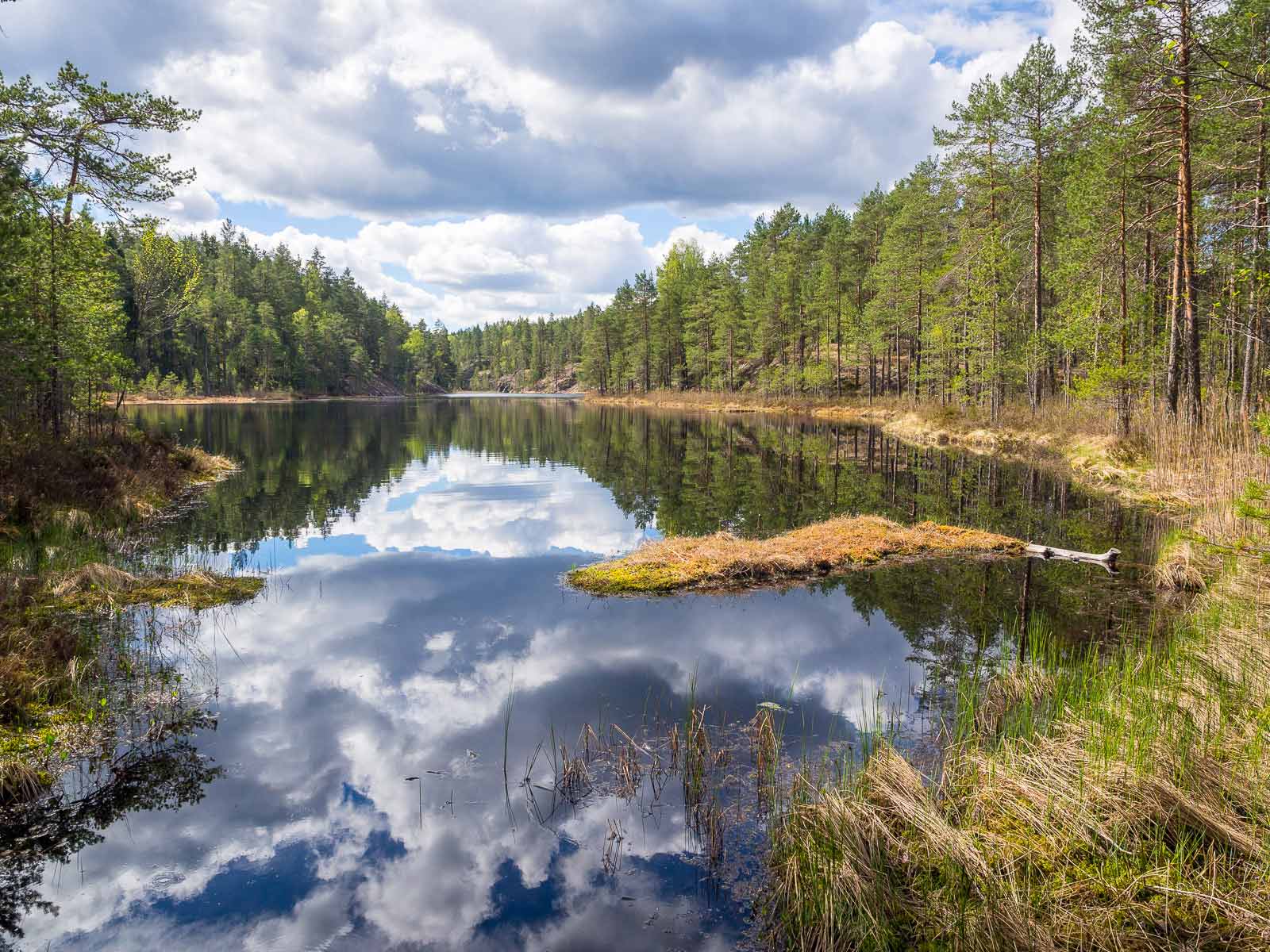 The weather can be quite unpredictable in Finland. There is no rainy season or dry season, it changes every day. Weather forecasts are usually very accurate for tomorrow, chances for clouds and rain for the day after tomorrow is around 50%, and beyond that it gets very unpredictable.
Every weather and different times of year have their own special atmospheres in the forest, I enjoy every one of them. You should not feel the need to cancel your adventure because of the weather. I offer clothing and other equipment for you to borrow, so that you too can enjoy nature, no matter what the conditions are like.
The best thing about not-ideal weather is that there probably are not many others in the national park then.
Here are some rough guides for different seasons:
Summer
From early June to mid September.
Day temperatures usually between 15 and 25°C.
Rain or sun, can change every day.
Fall
From mid September to end of November.
Day temperatures usually between 5 and 10°C.
Rain or sun, can change every day.
Winter
From December to end of March.
Day temperatures usually between -15 and 0°C.
Snowfall or sun, can change every day.
Snow on the ground.
Spring
From April to end of May.
Day temperatures usually between 5 and 15°C.
Rain or sun, can change every day.
Weather forecast for Nuuksio National Park from Finnish Meteorological Institute.
Weather forecast for Repovesi National Park from Finnish Meteorological Institute.
Clothes You Can Bring
You don't need to own any hiking specific clothing to come on my tours, but you can bring you own if you have them.
You can borrow for example clothes for rain and a down jacket for cold or for breaks, and waterproof shoes.
The clothes against your skin should be your own. Most people already own clothes that are suitable for dry weather.
Instructions For Clothing:
Walking with a backpack makes you warmer, so you need less clothing while walking than you think.
Clothing for a fast walk or running are good for hiking as well. You can wear more layers on top of them if you need to, and you can borrow them from me.
Sportswear are good for hiking because they dry faster than cotton.
If you've done day hikes in nature, the same clothes are suitable for overnight hikes as well, at least in dry weather.
Belt on your trousers can chafe your hips, it's usually right under the backpacks hip belt. Trousers without a belt or a thin belt are the best choice.
You don't need to carry super warm clothing. First you put a down jacket on, and if you need more warmth, you can go in the sleeping bag.
On longer overnight hikes you don't carry clean clothes for every day.
Clothing In Detail:
Shoes: running shoes when it's dry, waterproof shoes when it's cold and wet.
Socks: one pair for walking, one pair for sleeping. Always keep the sleeping socks dry.
Trousers: almost anything in dry conditions, shell trousers when it's raining. In cold weather wear them both. In even colder weather you can wear baselayer pants under your trousers.
Underwear: suitable for sports are a good choice.
Shirt: according to temperature, either short or long sleeved against the skin, sport or baselayer shirt is good. In cool weather you can wear two shirts. In cold weather wear two shirts or one shirt and a fleece under your jacket.
Jacket: in cold weather either a wind or shell jacket, shell jacket in the rain. Down jacket for the breaks and in camp.
Gloves: thin gloves in cool weather, waterproof gloves in cold rain. In cold weather wear thicker gloves or mittens.
Cap, beanie and bandana: in sunny or rainy weather wear a hat with a brim, thin or thick beanie depending on how cold it is, and you also have the jacket's hoods for extra warmth. In cold and when sleeping wear a neck scarf.
Gear You Can Bring
You don't need to own any hiking or camping gear, but you can bring your own  with you, like a backpack, sleeping bag and pad or a tent. We'll go through them before we start the hike and decide then if you'll take your own or borrow from me.
Other Personal Gear You Can Take With You:
Your own water bottle (0,5-1 litres) is ecological, but you can have one from me as well.
Sunglasses if needed.
Phone in waterproof bag (you can borrow the bag from me) and a power bank if you take a lot of photos.
Payment cards, cash, ID and keys in a small pouch. You don't need a handbag or a big wallet on a hike.
Personal hygiene products like toothbrush, wet wipes, travel towel and things you need for intimate hygiene.
Personal medication. Guide has a first aid kit.
Food
My tours include all the meals needed after you've stepped in to my minibus.
This is the most important thing: let me know of your and other people's diets and allergies on the booking form, because I have to get all the food beforehand and I can't replace anything once we're in the middle of a forest.
On longer trips we'll stop to eat on the way and for toilets.
On the hikes we'll eat food that I've found to work well when hiking. Because we're hiking for real, without outside help, we have to carry all the food with us, so the amount of energy they have and their preservability are very important.
I can't serve food that needs to be stored in cold at warmer weather, the food are stored in our backpacks.
I also don't serve hiking meals from stores, we use real stuff from grocery stores.
Meals on the Hikes:
Breakfast: muesli or porridge, coffee or tea.
Snacks: salty snacks, nuts, dried fruit, chocolate or candy.
Lunch: variety of warm meals, coffee or tea.
Snacks.
Dinner: variety of warm meals, hot chocolate or tea, cookies.
Insurances
I don't require nor check your insurances. I have my own insurances for things that I'm responsible for, but you should definitely have your own travel insurance that covers accidents during hiking. Your insurance should cover for example your transport back to your home country, in case you need special transportation because of a medical situation.
Citizens of EU and EEA countries or Switzerland get medical care in the public healthcare system, in situations where the patient can't wait to receive care in their home country. Europeans will need to have their European Health Insurance Card with them. Australian with a health insurance and address in Australia can also get care in emergency. To be clear, everyone gets treated in emergencies, but it varies who pays the bills.
Citizens of other countries should have insurance that covers medical care, otherwise you will need to pay for your treatment yourself.
You can read more about public medical care in Finland at Kela's website.