Things You Should Know When Going on a Guided Tour to Nuuksio National Park with Me
I try to make it as easy as possible for you to get to Nuuksio National Park and for you to be able to enjoy your adventure in every weather, at any time of year, but there are things that you need to take into consideration and understand when you are using my services.
Language
Physical Fitness
Privacy
Weather
Schedule
Children
Transport
Clothing
Food and Drinks
Insurances
Language
I'm fluent in English and of course, in Finnish. If your English isn't good, but you would anyway like to go on an adventure with me, we can do it. You can still enjoy the nature, it's beauty, peace and quiet and my services that make your life easier.
Physical Fitness
I can plan our route according to your fitness, we are not forced to follow a predetermined plan. For you to be able to go deeper in to the forest, you should be able to easily walk stairs up and down. The hills in the national park are not very big, but the uphills and downhills can be steep.
Our route can be anything between 1 and 30 km, depending on your fitness and interests. I can plan our day while driving to the national park, and change the route halfway, so we are always free to do what we want.
Even if you have a disability or are recovering from an injury during your holiday in Helsinki, I can still take you out for an adventure.
In case of a disability, you should contact me first before booking, so that I can tell you what I can do for you and plan your special day.
If you get injured after making your booking and are recovering when visiting Helsinki, please let me know of your situation, so that I can plan your adventure in advance.
Privacy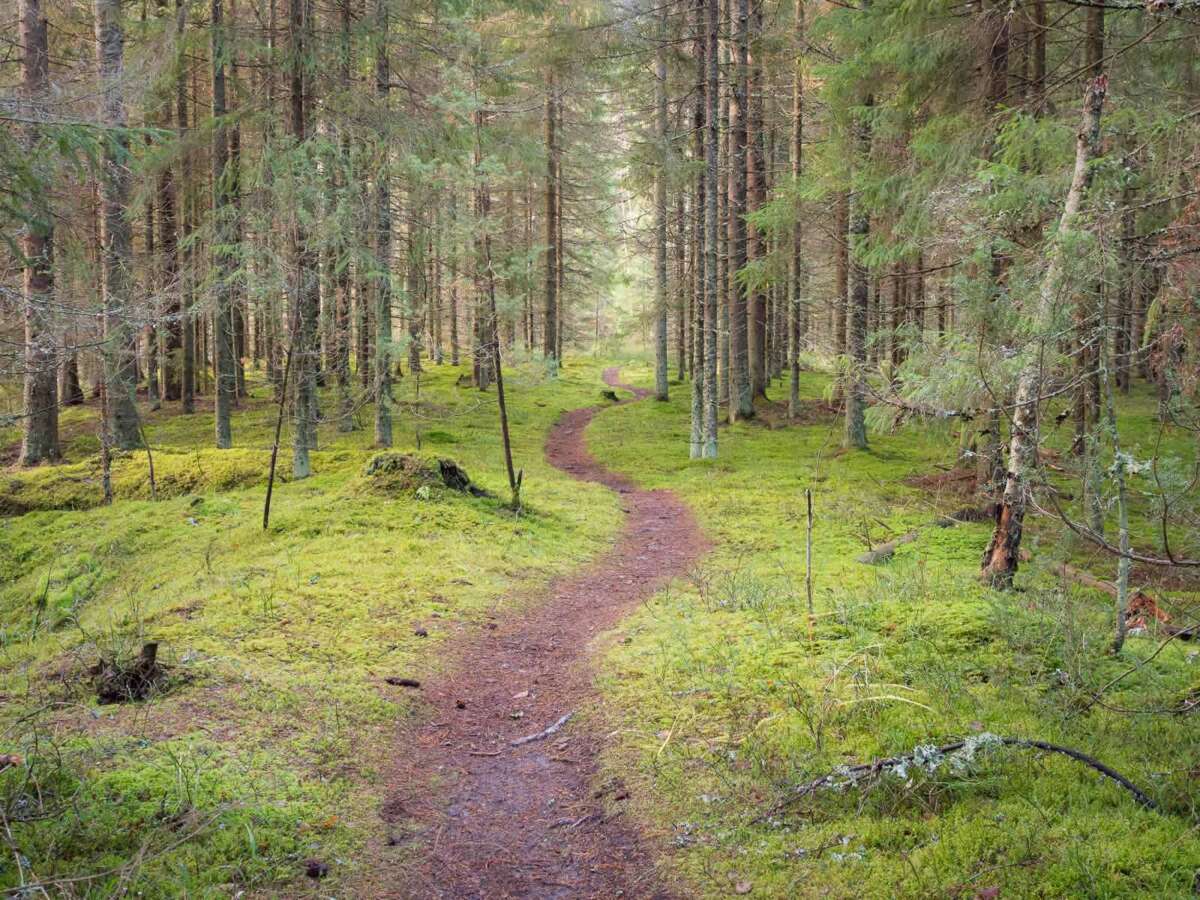 One of the great things about Finland for public figures, and for normal people as well, is that bothering others can be considered unpleasant, so you can walk relatively freely among other people, even if you are a public figure. When it comes to going to nature, people go there for their own peace, and at that point they don't care who you are.
If you are a celebrity, a public figure or just an ordinary traveler, you can trust me to keep your adventure private. I will not talk publicly about my customers or publish photos of you without your consent.
I want to take you to places that can provide more privacy, but as we have a concept of everyone's right here in Finland, I cannot guarantee that we will not see anyone else.
These are some guidelines for what to expect:
Main routes with signs that are marked on map and campfire places
Weekends and holidays: hundreds of people, especially summer and fall weekends can be very crowded.
Weekdays: sometimes no one, sometimes dozens of people, summer months are more crowded.
Outside the main paths on smaller trails with me
Weekends and holidays: possibly no one, likely fewer than ten people.
Weekdays: most likely no one.
The further away from campfires and routes with signs we go, the less likely we are to see anyone else.
Toilets
Also, the further away from the main paths we go, the fewer toilets there are. If you simply can't pee in the forest and you must have access to toilets, I can plan our route to pass several toilets during our adventure. We might need to go to the more popular side of the national park, but we can use the smaller trails that not so many people use.
Weather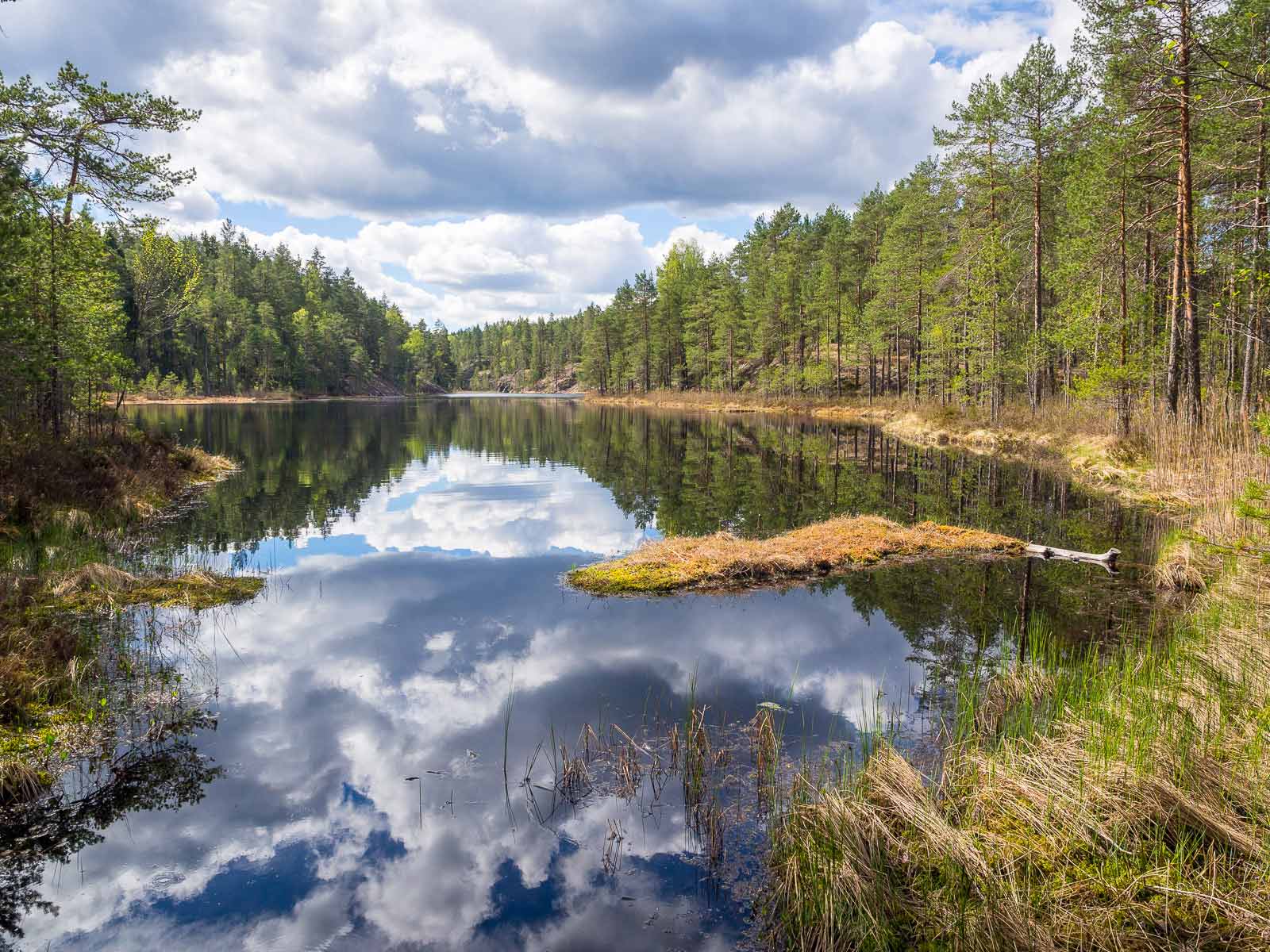 The weather can be quite unpredictable in Finland. There is no rainy season or dry season, it changes every day. Weather forecasts are usually very accurate for tomorrow, chances for clouds and rain for the day after tomorrow is around 50%, and beyond that it gets very unpredictable.
Every weather and different times of year have their own special atmospheres in the forest, I enjoy every one of them. You should not feel the need to cancel your adventure because of the weather. I offer clothing and other equipment for you to borrow, so that you too can enjoy nature, no matter what the conditions are like.
The best thing about not-ideal weather is that there probably are not many others in the national park then.
Here are some rough guides for different seasons:
Summer
From early June to mid September.
Day temperatures usually between 15 and 25°C.
Rain or sun, can change every day.
Fall
From mid September to end of November.
Day temperatures usually between 5 and 10°C.
Rain or sun, can change every day.
Winter
From December to end of March.
Day temperatures usually between -15 and 0°C.
Snowfall or sun, can change every day.
Snow on the ground.
Spring
From April to end of May.
Day temperatures usually between 5 and 15°C.
Rain or sun, can change every day.
See the weather forecast for Nuuksio National Park from Finnish Meteorological Institute.
Schedule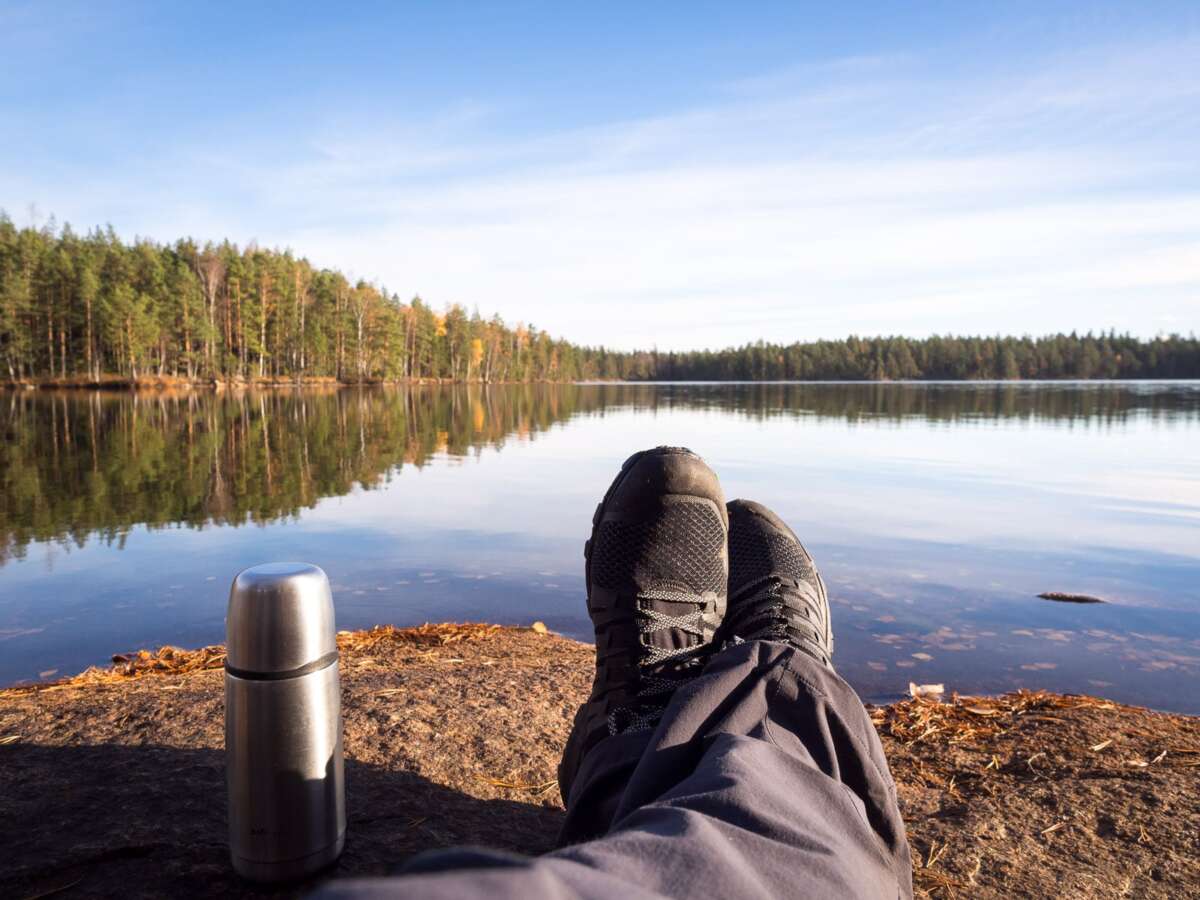 My service is for a day trip to Nuuksio National Park and it has a relaxed schedule on my part. If you have other things planned for the same day, we will of course go by your schedule.
The average time I have spent with my customers has been 11 hours. That's a lot longer than other guides.
Even though the schedule is relaxed, there are limits to our stay in the national park. One of the limiting factors is the amount of food we have with us. My service includes a lunch and snacks, and also the drinking water and hot drinks. With these, we can stay in the forest for around 10 hours at most, considering there's also 1 to 2 hours of driving to the national park and back and some preparing, meaning the whole duration from your hotel to back to your hotel would be 11 to 12 hours at longest.
As a minimum for use of my service I recommend having at least 3 hours. If you have 3 hours or less, you should contact me for ideas of what to do, if you want to see Finnish nature.
This is an example of your schedule for the day:
Eat a good breakfast before I pick you up.
We drive to the national park and you can change your clothing if necessary. 1 hour.
We walk in the forest or sit down to sense the world around us. We eat some snacks. Few hours.
We stop for a lunch. 1 hour.
We walk again or just relax, and we can eat snacks. Few hours.
We get back to my car, you can change your clothes. We drive back to your hotel. 1 hour.
You relax at your hotel and then go for a nice dinner.
This would take around 10 hours from your hotel and back again.
Children
Children under 18 years old get to come on my hiking tours for free! You'll only pay by the number of adults.
For now, I don't have clothing and equipment in children's sizes.
See my clothing sizes below, and if your child is smaller than those sizes, you need to bring their own outdoor clothing.
You can borrow a baby carrier backpack for free, and I have safety seats in my minibus for kids.
If you come with young children, remember to mention it on the booking form, so I can take them into consideration when I prepare our adventure.
You can read more about my tours for children here.
Transport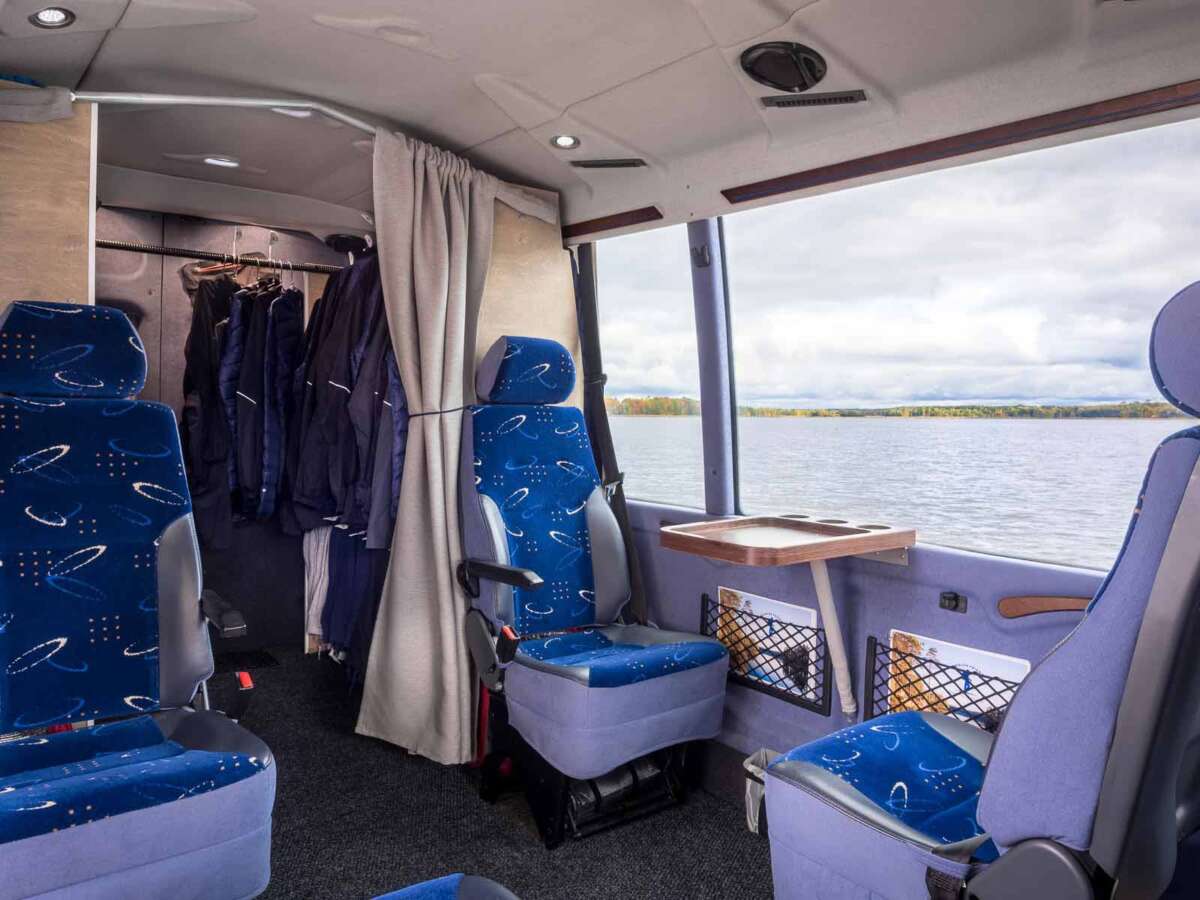 I will pick you up from anywhere in the Helsinki Metropolitan Area, whether it's a hotel, Airbnb or your friends home, and also take you back there after our tour.
I have a large air conditioned minibus, where every passenger has more space than in a normal car's front seat. It's really nice.
Clothing, Shoes and Other Equipment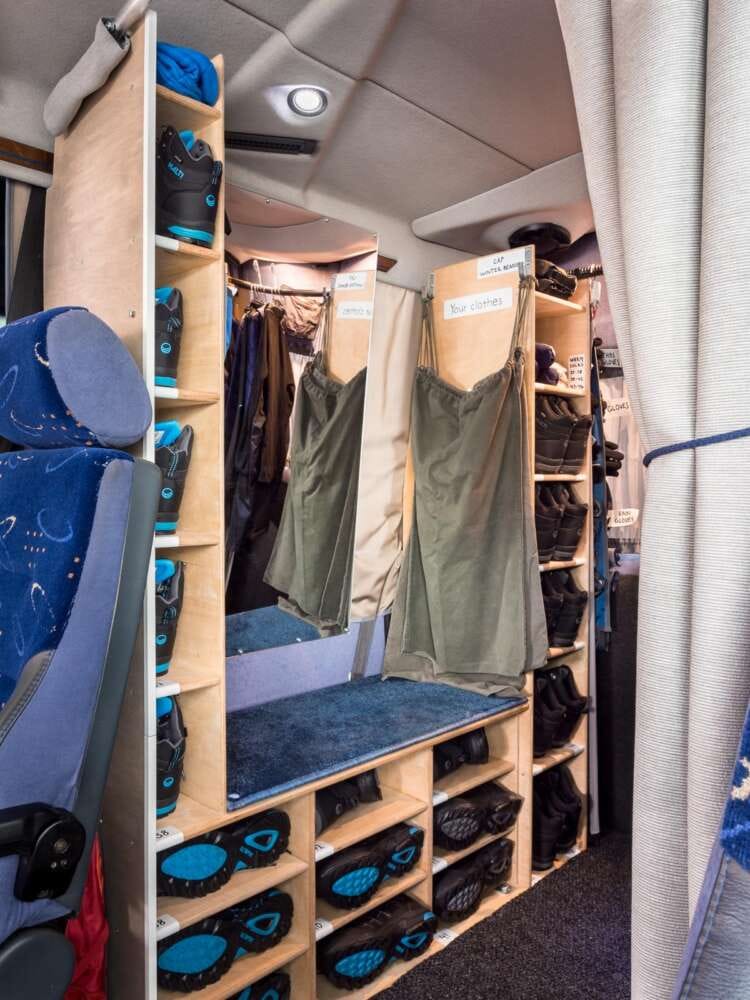 I offer quality outdoor clothing and shoes by Finnish brand Halti, and other equipment for you to borrow, for free. All you need are clothes you're comfortable to be in your home or hotel. You can change your clothing at the national park or any other destination, in a warm place.
You can borrow clothes that keep the elements outside, like rain, wind, cold and snow.
You should consider having separate clothing just for your adventure, because they can get dirty and if you want to sit by a fire, they will smell strongly of smoke. Your own sport or hiking clothing will work well together with the clothing you can borrow from me.
I recommend you wear your own clothes against your skin when possible. For example, wear your own running clothing that you don't mind getting sweaty, and then borrow rain or warm clothing from me to put on top of your own clothes.
I wash the clothes you can borrow after every use, so they are as clean as new.
I try my best to offer clothing that fits for everyone, but there are always limits somewhere. If you have your own outdoor clothing, I recommend you use them and borrow what more you need from me. Also, if you know that you often have difficulties finding fitting clothing, you might want to consider taking your own with you, that you know fit you well.
These are the sizes available for the clothing you can borrow:
Jackets, shirts and trousers
Sizing for approximately: from 150 cm to 195 cm tall, from XS to XXL
Waterproof rain jacket, trousers
Warm jacket, shirt, trousers
Shoes and socks
Sizes available: Euro 36 to 47 / UK 3,5 to 12 / US 6 to 12,5 / Jpn 22,5 to 32
Waterproof shoes
Warm winter shoes with ice spikes
Socks for every condition
Gloves, hats and scarfs
Gloves: from S to XL
Beanies: one size
Summer hats: adjustable
Other size specific equipment are adjustable, like backpacks, walking poles and snowshoes.
Food and Drinks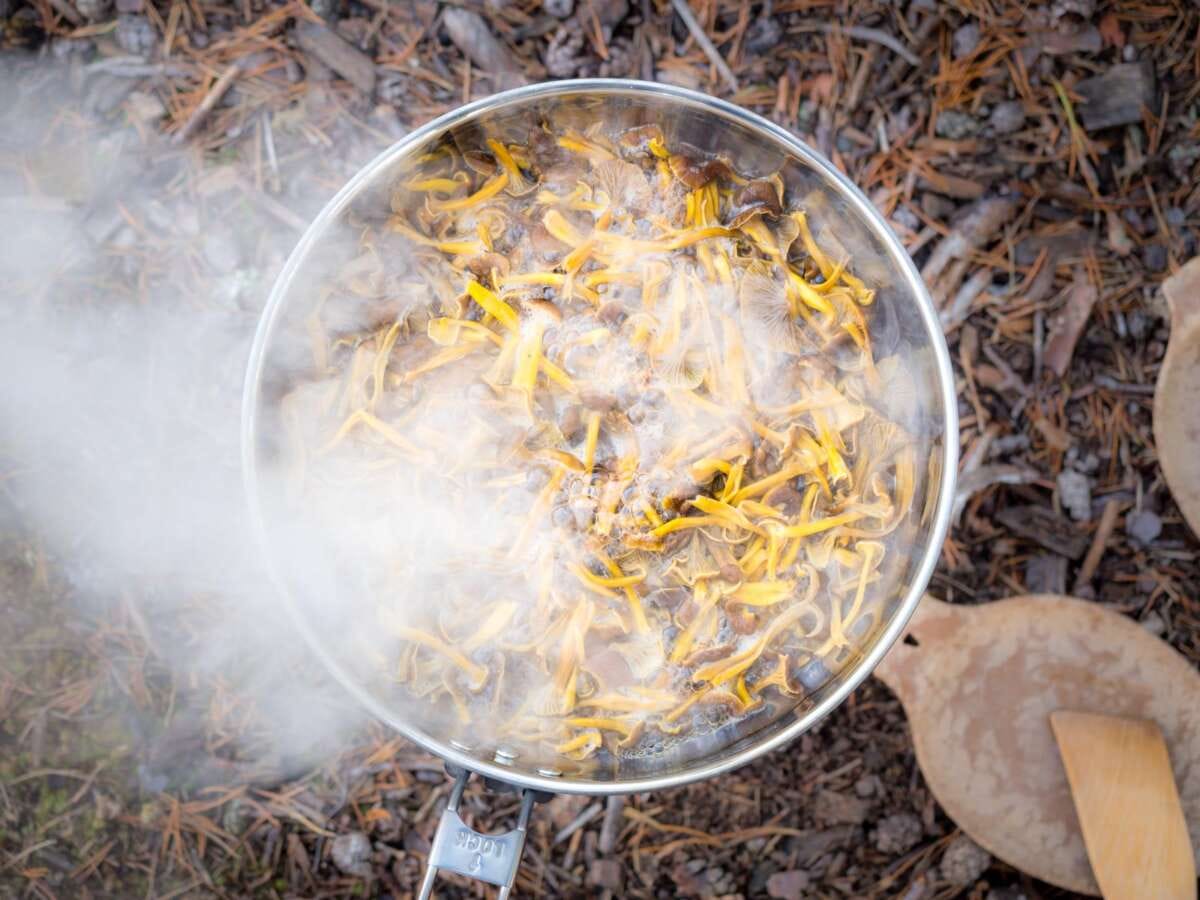 The most important thing: we go into a forest and we have to carry our food with us. If you have food allergies or a diet and you forget to mention it, we might end up being in the middle of the national park without food for you. Please, tell me about your allergies or diets on the booking form, so that I can make sure you get to enjoy eating in nature.
My menu can change according to seasons, but I always include things that Finnish people consider to be very Finnish. These are some of the common ingredients in Finnish cuisine that you'll likely find in my menu:
Dairy (milk products)
Potato
Mushrooms
If you can't eat some of these, just let me know in the booking form and I will have an alternative ready for you.
My service includes snacks, lunch and drinks. If you eat well before we start our adventure, the amount of food included will be enough for around 8 hours from the time I pick you up. We can't carry an endless supply of food, but if your greatest wish is to stay longer in the national park, then mention it on the booking forms wishes and I will take some extra food for us, or we can stop at the Finnish Nature Centre Haltia for lunch, at everyone's own cost.
For drinking we have water in warm weather and hot juice in colder weather. At lunch you can choose either tea or coffee.
Insurances
I don't require nor check your insurances. I have my own insurances for things that I'm responsible for, but you should definitely have your own travel insurance that covers accidents during hiking. Your insurance should cover for example your transport back to your home country, in case you need special transportation because of a medical situation.
Citizens of EU and EEA countries or Switzerland get medical care in the public healthcare system, in situations where the patient can't wait to receive care in their home country. Europeans will need to have their European Health Insurance Card with them. Australian with a health insurance and address in Australia can also get care in emergency. To be clear, everyone gets treated in emergencies, but it varies who pays the bills.
Citizens of other countries should have insurance that covers medical care, otherwise you will need to pay for your treatment yourself.
You can read more about public medical care in Finland at Kela's website.
Go Back to the Main Pages
Ask Me Anything